DOCman 3.0 to DOCman 3.1
Last updated: 22 October 2022
If you are unsure about the upgrade or have questions related to your setup, you can contact us and we can make sure everything is in order together.
Joomla 3.7.x or later
DOCman 3.0, check our upgrading guides when running an older version
We have added dozens of new features to DOCman 3.1 but also removed a few. Make sure to check the changelog before upgrading.
Before you start the upgrade process please make a full backup of your site. If you have private documents, make sure your site is offline or make a copy of your site where you can work in.
Upgrading to DOCman 3.1 is done via the standard Joomla extension updater. Navigate to Extensions > Manage > Update. Click Find Updates in the toolbar if you do not see DOCman in the list. Then select DOCman and click Update in the toolbar.

Also install the latest FILEman & LOGman packages if you use them on your site.
Since all our extensions share a common base framework your site might stop functioning if you don't upgrade all extensions together.
For DOCman 3.1 we have disabled the document descriptions, in the front-end Submit a document menu item, as they are almost always unused. This only applies to new installs of 3.1.
Learn more about how to re-enable document descriptions in the front-end Submit a document menu item .
In DOCman 3.1 we have taken the first step towards removal of the file manager to make DOCman easier and more straightforward to use.
In the documents manager you will now find a upload button that allows you to upload multiple files and create documents for them in one go. This replaces the create documents flow in the file manager and works in the same way.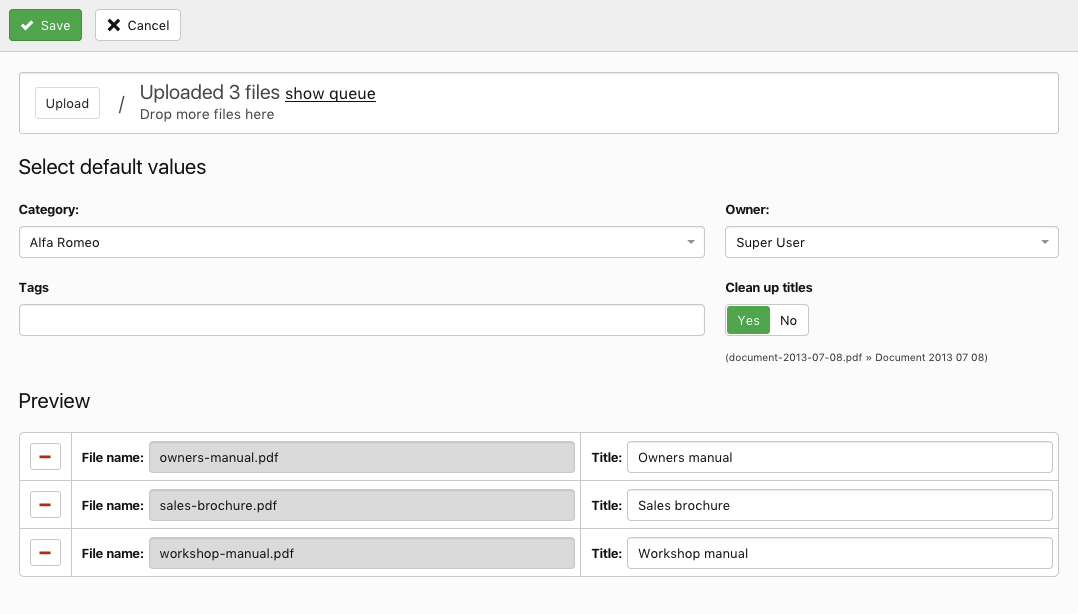 DOCman search is disabled by default as of DOCman 3.1. To re-enable DOCman search on your site go to your DOCman menu item where you will find a new setting, under the DOCman tab, called Enable document search, change this setting to Yes.