DOCman 2.1 to DOCman 3.x
Last updated: 25 March 2021
If you are unsure about the upgrade or have questions related to your setup, you can contact us and we can make sure everything is in order together.
Joomla 3.6.x or later
DOCman 2.1.5, check our upgrading guides when running an older version
PHP 7.1 or older
Important: If your site is running on PHP 7.2 or higher, the upgrade will not work. Temporarily lower your PHP version to at least 5.6 then follow the rest of this upgrading guide. After upgrading, you can switch back to your original PHP version.
We have added a dozen of new features to DOCman 3 but also removed a few. Make sure to check the changelog before upgrading.
Before you start the upgrade process please make a full backup of your site. If you have private documents, make sure you site is offline or make a copy of your site where you can work in.
Note: The remove orphans feature has been removed in DOCman 3.1. If you wish to remove your orphan files you need to do this before upgrading. You cannot do it anymore after upgrading.
Download the latest DOCman package from our Support Center.
Upgrading to DOCman 3.x is done via the standard Joomla extension installer. Navigate to Extensions > Manage > Install. Then select the Upload Package File tab.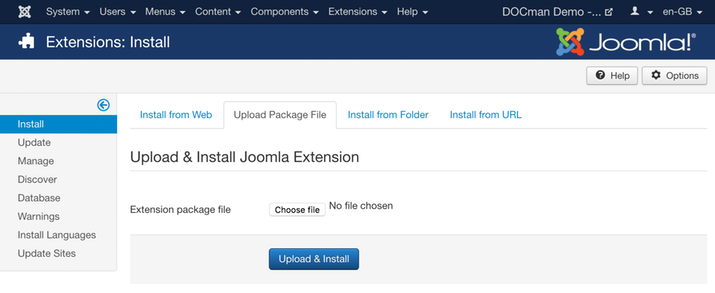 Earlier versions of DOCman required our extension manager EXTman. This is no longer the case. EXTman is automatically uninstalled during the installation of DOCman 3.x.
Also install the latest FILEman & LOGman packages if you use them on your site.
Since all our extensions share a common base framework your site might stop functioning if you don't upgrade all extensions together.