Auto create documents and categories from files and folders
Last updated: 18 October 2022
DOCman can automatically create categories from folders and documents from files. Just copy your archive into your Joomla site using FTP or any other file browser.
Note: This feature only works if all folders are attached to a category. This happens by default on DOCman 3.0+, however, if your site is upgraded from an earlier version of DOCman you will need to edit the categories in backend and select either Automatic or a custom folder in the folder field.
Note: This feature will not work if your site is set to offline in Joomla global configuration.
Navigate to Components > DOCman > Settings and under Automatic monitoring:
set Automatically create a category for new folders to Yes
set Automatically create a document for uploaded files to Yes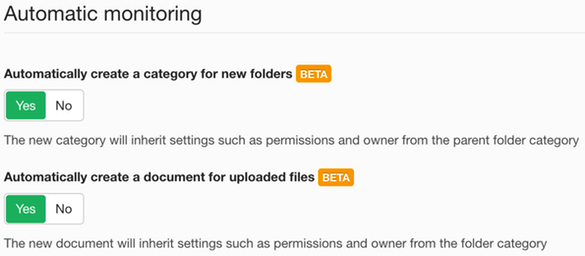 Backup first: This feature is currently in beta, we strongly advise you to backup the backup of your site before enabling automatic creation.
Copy the folders and files into the DOCman folder, by default: joomlatools-files/docman-files using FTP or any other file browser.

Depending on the amount of folders & files it can take some time for DOCman to create all the categories & documents.
The creation process is being triggered from requests to DOCman. Click around a bit to keep the process going while enjoying a coffee (or tea).
DOCman created all the categories and documents for you. It's like magic.
We strongly advise to disable automatic creation of categories and documents when you're no longer using it.
Navigate to Components > DOCman > Settings and under Automatic monitoring:
set Automatically create a category for new folders to No
set Automatically create a document for uploaded files to No