Let us do a recap of what is new in TEXTman 2.0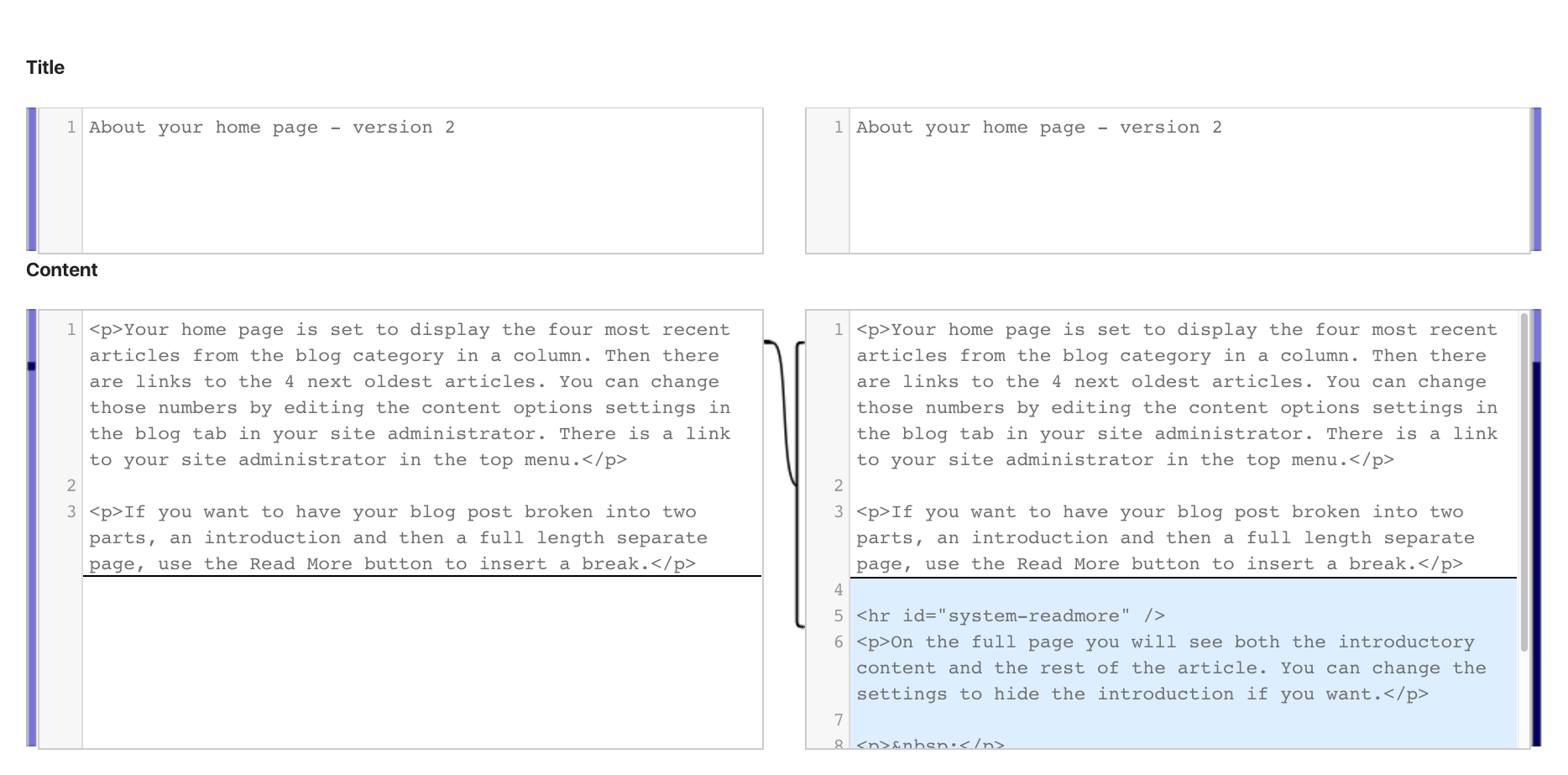 Every change made to an article is now tracked as a separate version. Versions can be easily managed: you can select to view the differences between two versions and opt to restore a previous version with a single click.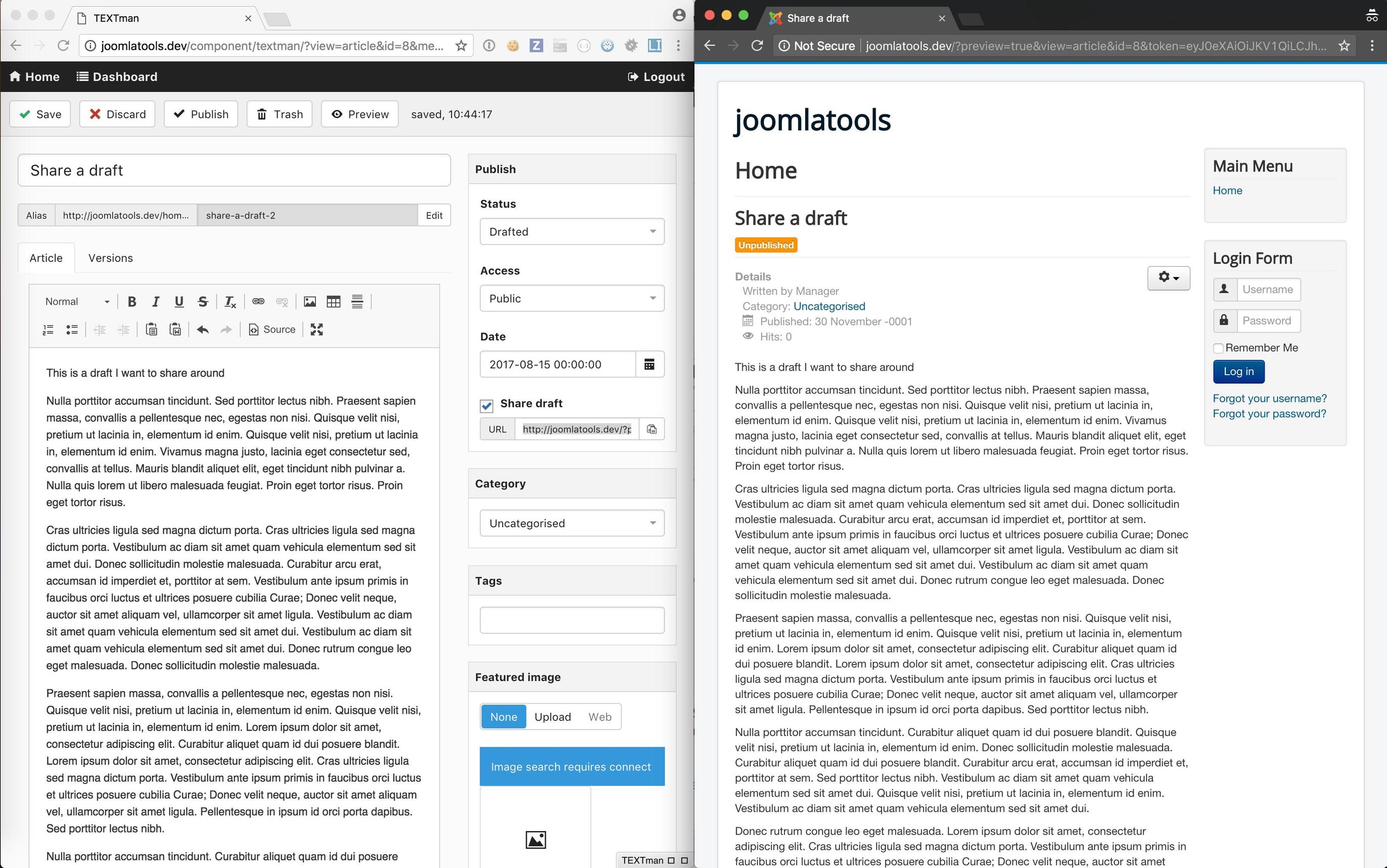 Articles can be shared via the preview link generated from the article editor. If the recipient of the preview link has editing rights, the TEXTman editing sticky toolbar will be shown.
You can use the article preview to discuss changes to articles or have them reviewed by other content editors.
Trashed articles will automatically be removed from your site after 30 days. The trash view has been extended to show you how many days an article has left in the trash before it becomes permanently deleted. You no longer need to worry about cleaning up your trash yourself!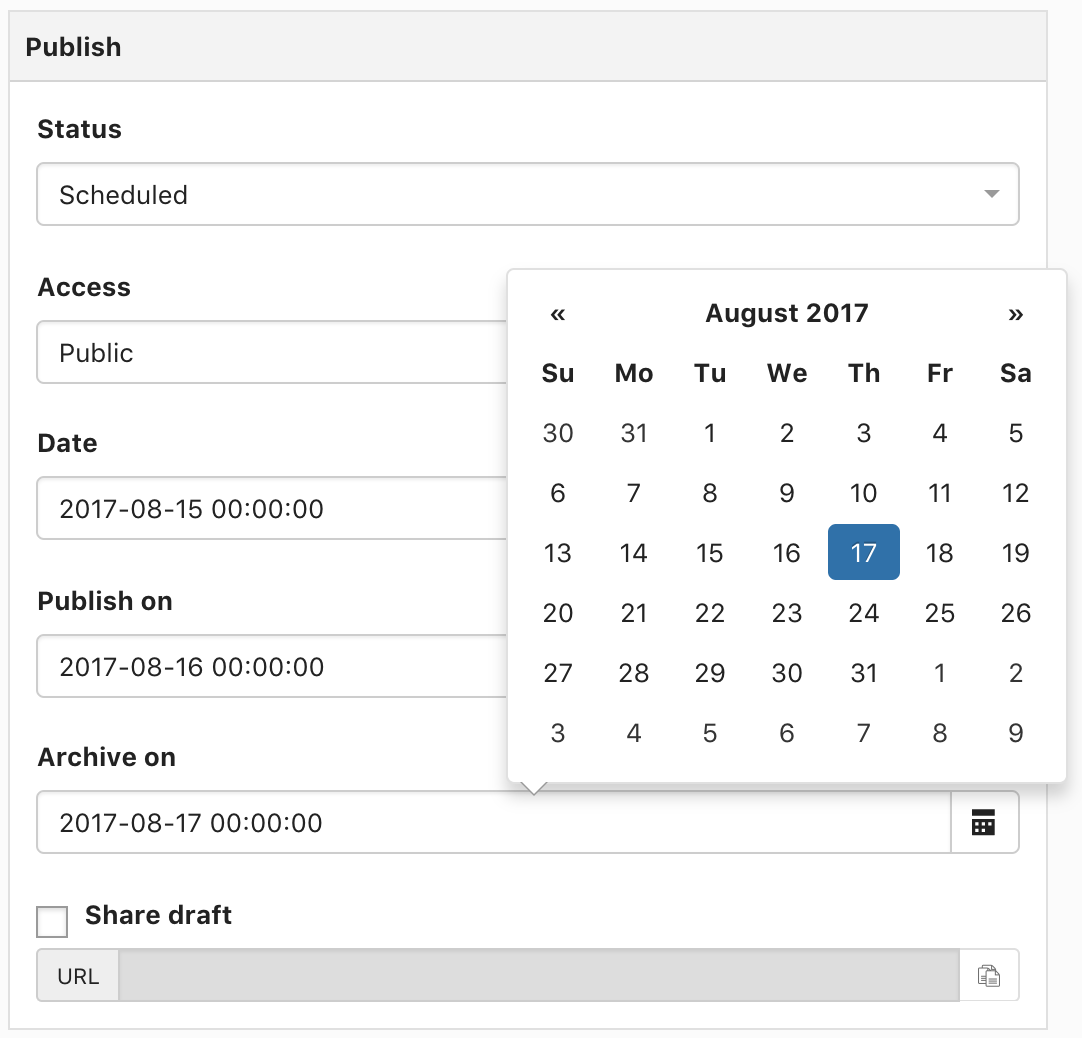 We made scheduling of your posts smarter and simpler. Publish on and Archive on have replaced Publish start and Published end, and we introduced the following publishing states:
Published... the article has been published to the site
Scheduled... the article is scheduled to be published on a specific date or scheduled to be archived on a specific date
Drafted... the article is being drafted and is only accessible to content editors
Archived... the article has been archived and is no longer available
This information is also exposed via Open Graph og:article tags and the x-robot tag unavailable after for improved SEO support. Google and Facebook will now know when your article expires and remove it from search results.
The confusing unpublished Joomla article state has been changed to draft. After all, an unpublished article is always a draft article until you publish it.
If you start a new draft and forget to explicitly save it before navigating away from the article editor, TEXTman will display a friendly warning the next time you access this draft. This warning will prompt you to either save the draft, and thus create a new article, or discard the draft altogether.
If you are editing an existing article and forget to explicitly save it before navigating away from the article editor, the article will remain published in its unedited state. When you come back to re-edit this article, TEXTman will display a friendly warning to let you know that you have unsaved changes to the article.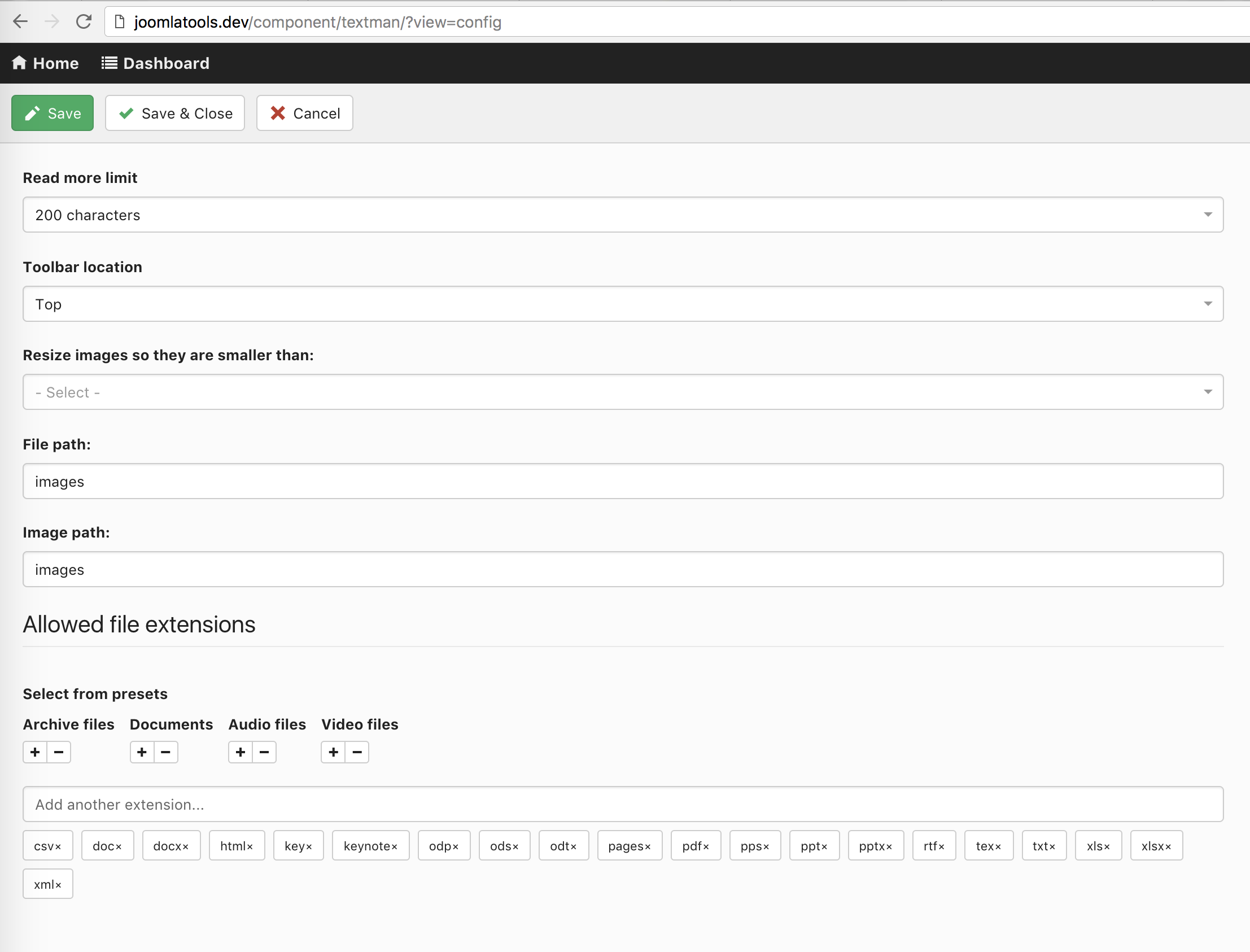 Like DOCman and FILEman, you can now control all aspects of TEXTman globally via TEXTman's settings page. The settings page is available from the frontend and can be accessed by users that have configuration permissions.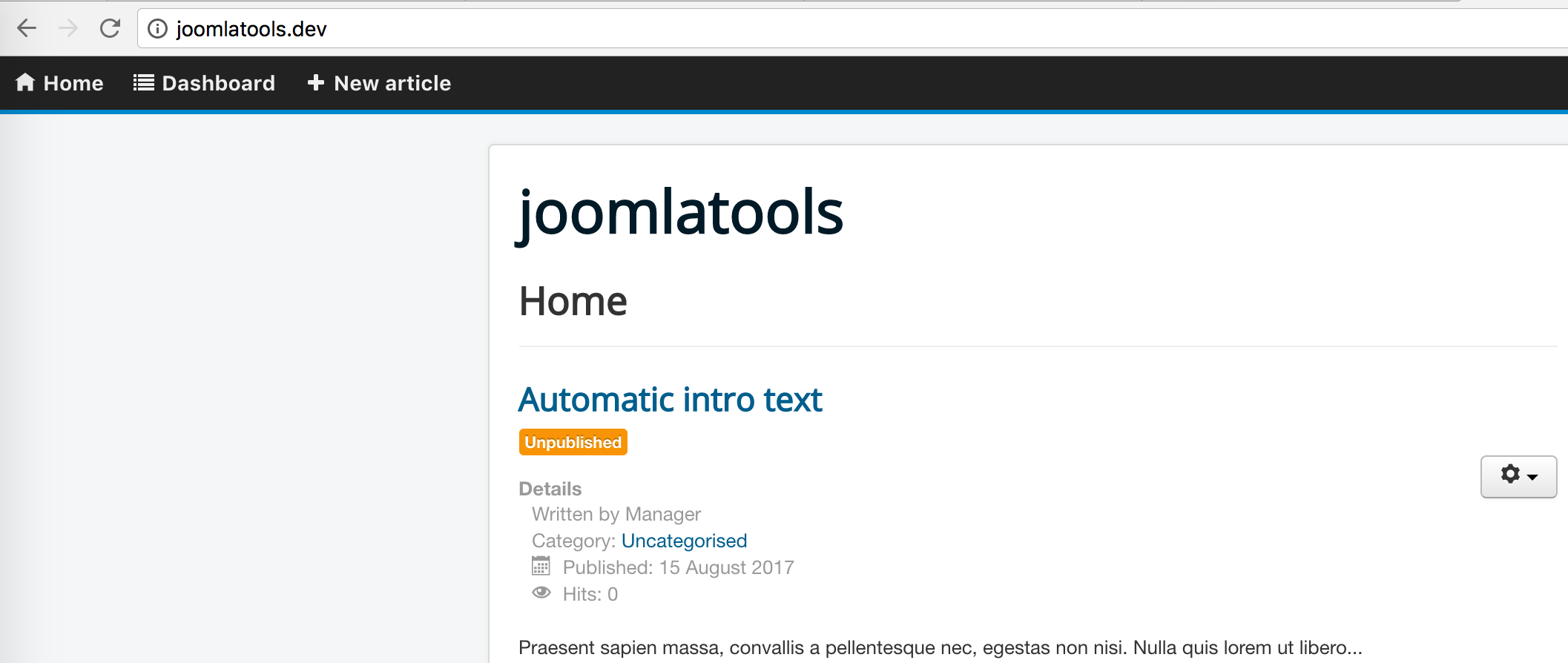 Manually adding Read More links is now a thing of the past! You can set the read more limit through the settings. If enabled, a Read More link will automatically be inserted for all your articles.
When you configure this setting the traditional 'Read More' editor button is removed. You can of course still rely on the traditional 'Read More' behaviour by selecting 'Manual' from the settings page.

When a user drags an image into the editor, or when a user uploads a new featured image, the system will automatically resize the image as per TEXTman's configuration.
Using the Joomlatools Connect plugin, Agency and Business subscribers can easily insert gorgeous featured images from the Unsplash community into their articles. Just search by keyword, find a beautiful image, insert it, and done!
Unsplash offers a beautiful, royalty free photography collection from the world's most generous community of photographers.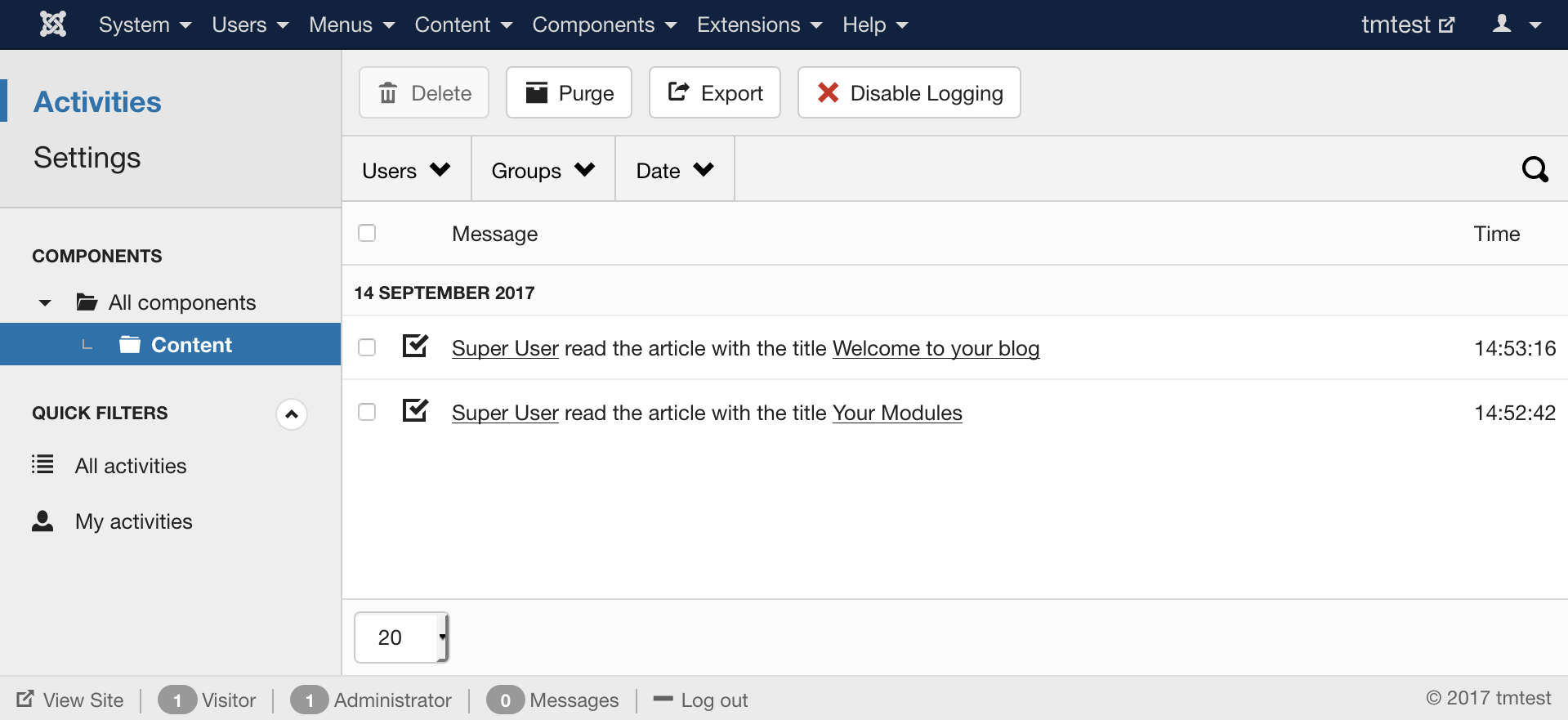 TEXTman 2.0 brings article impression logging to LOGman. If you have TEXTman 2.0 installed LOGman will be able to log each time a user or a guest visits one of your articles (if you enable Log activities from guest users within LOGman).
This new feature allows you to see if a user has read a specific article or see how popular an article is.
You can now insert images and create links to files via drag and drop. All you have to do is drag and drop a file into the editor. That's it!
Files are stored in the images folder or in the folder you specified in the Joomla media manager settings. If you decide to change the default path of images, TEXTman will create these folders for you on the fly.
In an effort to make dealing with articles easier, the article's created_on and modified_on dates have been combined. The article date is now either the created date for a new article or the last modified date for an updated article.
This makes it much simpler to see the recently created or recently modified articles. Less information to manage and increased ease of sorting new articles makes managing your articles easier all round!

Articles can now be sorted by popularity. You'll notice the Views column in the admin list view. You can sort by ASC and DSC and you can also get this information from each article's edit view.

Check the changelog to see what changed in TEXTman 2.0.
Supercharge your Joomla article editing flow with TEXTman. Go ahead and try TEXTman on our demo or download it from our Support Center. Not yet a member? Get a subscription and start using TEXTman today!
We love to hear your feedback on how we can make TEXTman even better.