LOGman 2.1 has landed
In the past months we have been very busy working on exciting new features for LOGman. We are happy to announce that LOGman 2.1 is ready!
The new version is packed with a bunch of goodies that improve user interaction with activities:
Frontend activities
Email notifications
RSS Feeds
Guest activities
This release mainly focuses on frontend support. This is something that has been frequently requested and for a good reason. Frontend activity streams are a game changer for LOGman.
Frontend activities
LOGman is a very useful tool for tracking and exposing user activities. However, since these streams were only available in the backend, LOGman has always been regarded as an admin tool.
By exposing frontend streams users now get to interact with other components through LOGman. Visitors also get to interface with streams and in a way not possible before. The use cases and possibilities are literally endless.
LOGman now provides activity streams in the frontend interface by exposing an activity view and module.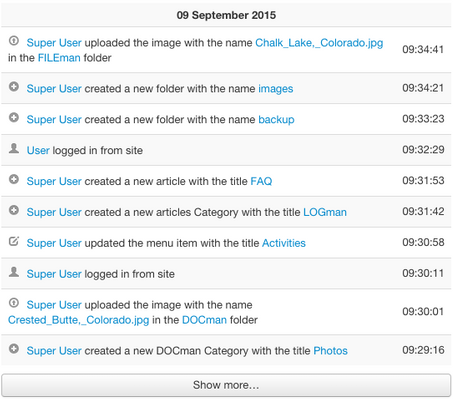 The view can be configured for displaying activities from the current logged in user. A filter for streaming activities from a selected list of components is also made available. These make integration with other components super easy.
Email notifications
LOGman provides a new notifications API for dealing with activities notifications. An additional notifier plugin has been included that will send activities notifications in the form of Emails to a selected list of addresses.
RSS Feeds
This is another new feature that will certainly improve your workflows and those of your visitors. RSS feeds are now supported for both backend and frontend streams. You may now use endpoints to visualize activity streams in your favorite news reader.

LOGman stream endpoints support the RSS Autodiscovery mechanism. This means that all you need to do is to provide the full URL of the activity stream page and your application will do the rest.
Guest activities
Activities from guest users are now logged by LOGman. We added a configuration parameter in the LOGman settings to enable this behavior.
And many more
As always some other minor improvements are also included such as support for additional languages and usergroup activities filtering. Please visit the LOGman 2.1 changelog to see what's new or give LOGman a test drive today on our new demo site.
As for the next steps, we are planning to integrate more components with LOGman. Integrating LOGman with Zapier is also in the works. This will make possible to automate tasks relying on user activity. Yes, you heard that right!
If you have an active LOGman subscription you have immediate access to LOGman 2.1 at no additional cost. If you do not have a subscription yet you can subscribe on our online store.