Fast forward to 2022, today much has changed, despite the many file and document managers available for Joomla, DOCman is, arguably, still the best solution for managing files and documents. Why? The reasons are simple, years-upon-years of experience, listening to the requirements of our customers, understanding what they need and then putting all of that into practice, to provide the best file and document manager there is for Joomla.
At the tail end of 2017, as the uptake of WordPress was out performing that of Joomla, many of our agency and business customers, that were starting to build WordPress sites, asked us if we could bring DOCman to WordPress, they'd been using it for over a decade and told us that the power was unmatched.
WordPress is fundamentally different from Joomla, in so many aspects. Luckily for us we have some of the best software developers in the world on our team. Our CEO Johan Janssens is well known in the community for being the inaugural project leader of Joomla CMS, but he's not the only brains in the team, we have others too. So, about 5 years ago we wrote the first line of code to bring DOCman to WordPress.
Of course it wasn't out-of-the-box easy, nothing worthwhile ever is. The team took the time and effort to study the WordPress codebase with a fine-toothed comb, the goal wasn't just to port DOCman from Joomla to WordPress, we re-wrote every line of code for WordPress to provide an even better product.
With DOCman for WordPress we wanted to improve the file and document management experience, with new and exciting features and functionality. One example is our brand new, built-from-scratch, intuitive and easy to use, but incredibly advanced, permissions system. WordPress doesn't have anything like it, even Joomla has been trying to nail this particular conundrum for many years.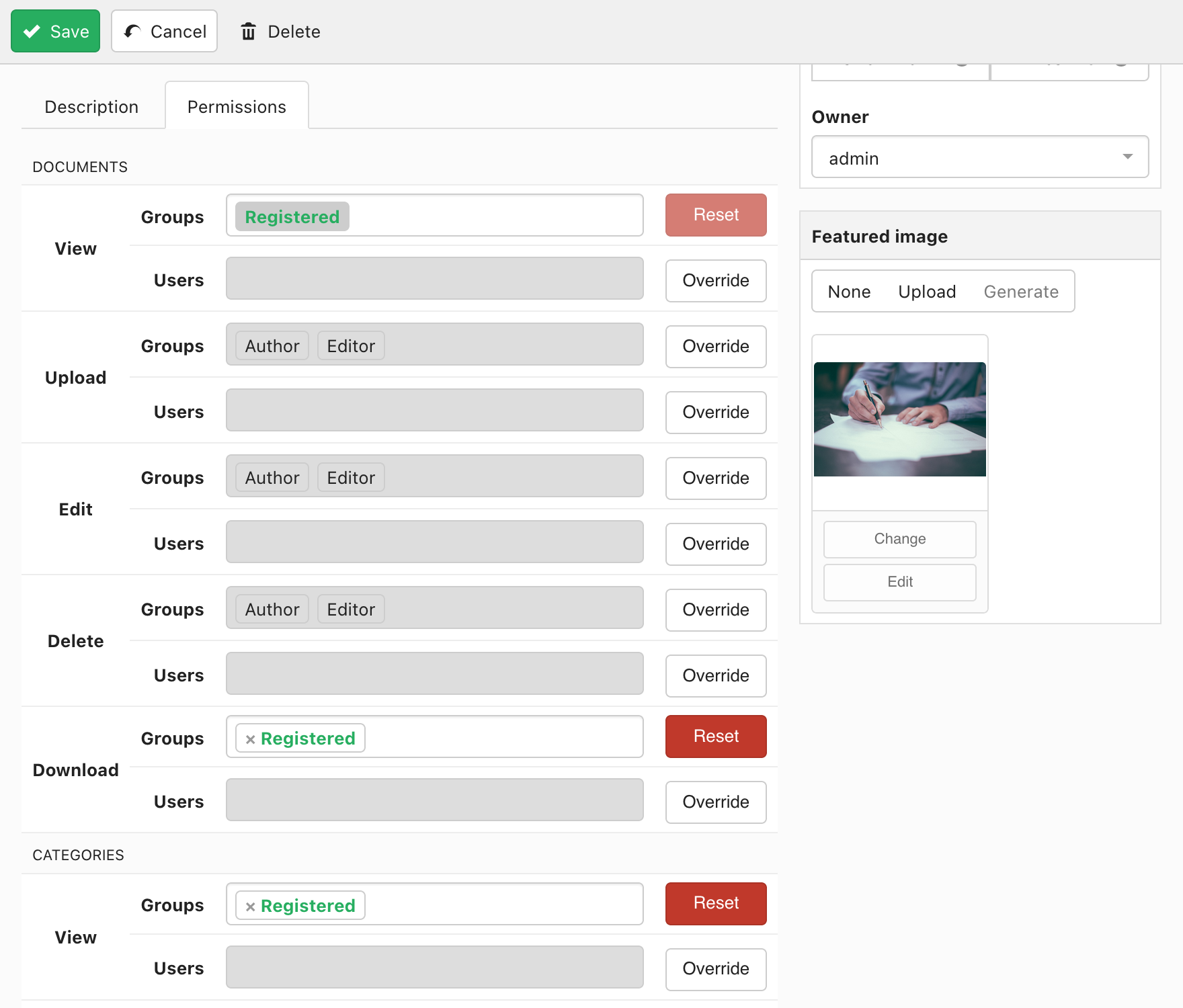 The permission system bundles years of experience learning what our customers need in terms of access restrictions and management permissions. We tightly integrated it with WordPress roles, so it's not only compatible out-of-the-box with WordPress, but with pretty much every 3rd Party WordPress plugin too...
The first stable, but closed, release of DOCman for WordPress was back in November 2020, we'd gone through both alpha and beta release phases before then, and with the help of a select group of customers made it available strictly to our business and agency subscribers. Since then, with their feedback, we've further refined and stabilised DOCman so that we know it's rock-solid from the day it goes on public release.
Today is that day, we are thrilled to announce that DOCman for WordPress is generally available to all our customers.
DOCman's not only beginner-friendly and easy-to-use, it brings with it a ton of additional possibilities with a unique set of features that aren't found in other commercial file and document management plugins for WordPress.
Sure, there are other file or document management plugins already available, we can almost guarantee that nothing comes close to DOCman though. We might be the new kids on the block, but you're not only getting a new plugin, you're also getting a decade of experience!
Bookmark our news page or sign up for our newsletter, DOCman for WordPress is only going to get better-and-better. New feature releases will come, our documentation will help you take full advantage of DOCman, we'll write more once we've had more feedback from WordPress site owners, developers and integrators and we'll even help you with tutorials and in-depth feature posts, so stay tuned.
Last but certainly not least, we'd like to take this special opportunity to thank all of our customers that actively participated in the closed alpha, beta and stable release cycles. The feedback you provided, not to mention your patience, were appreciated by the whole team.
Kudos to you all... you rock!
Supercharge your WordPress file and document management with DOCman. Go ahead and try DOCman on our demo or download it from our Dashboard. Not yet a member? Get a subscription and start using DOCman today!