Here's a quick overview on these two new features and the important changes in DOCman 3.5:
We gave some love to DOCman's documents module, you could already choose to display a list or a gallery of images, now you can easily create a slider of image documents as well.
There's no need to install any other third party extensions, just select the slider layout from the module's layout settings and adjust the slider settings to your liking.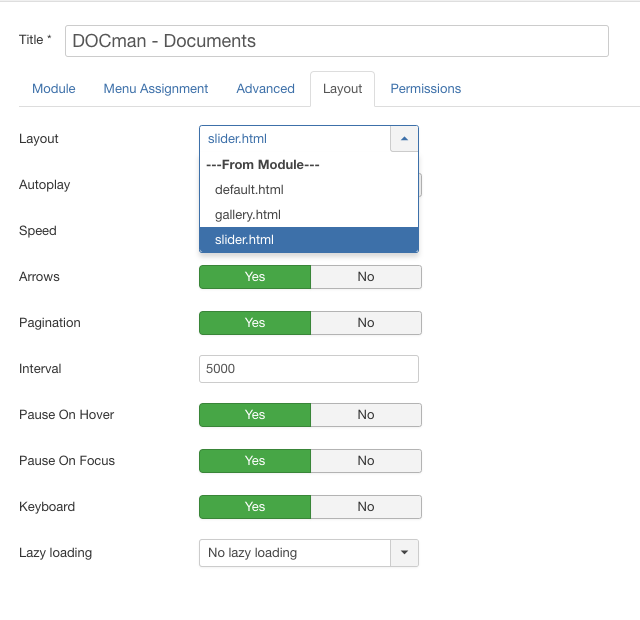 DOCman's in-built video player already gave your users the ability to natively stream videos on your website. With the launch of DOCman 3.5 your users now also have the ability, if they have the correct permissions, to download the video file.
You'll see a brand new download icon next to the full-screen icon in the video player's toolbar, highlighted in blue below:

Finally, in case you missed the announcement, DOCman's powerful new photo editor lets you create your very own viral memes and web adverts, you just have to have Connect* installed.
Check the changelog to see what's changed since DOCman 3.4.
Our upgrade guide fills you in on how to upgrade. Curious? Try our demo.
Supercharge your Joomla document management with DOCman. Go ahead and try DOCman on our demo or download it from our Dashboard. Not yet a member? Get a subscription and start using DOCman today!
*Connect is only available to Agency and Business subscribers, not yet a Business or Agency Subscriber? Get your Subscription from only $199. Customers with Personal Subscriptions can upgrade to a Business or Agency Subscription and pay only the pro-rata difference, to start using Connect right away, click here to request your upgrade.
Be the first to know about upcoming extensions, features, and news by following us on Twitter, Facebook or Linkedin