Get the new Joomlatools Dashboard Desktop App!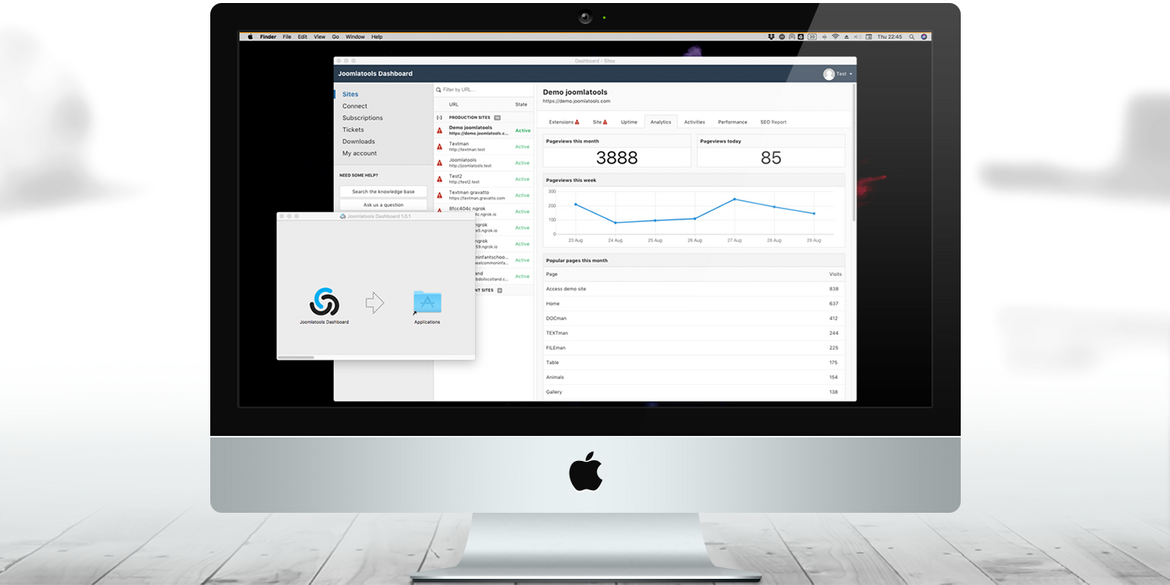 Back in June, we introduced Joomlatools Dashboard. Today, we're thrilled to announce another 1st in the Joomla world with the release of our Desktop App for Joomlatools Dashboard!
With instant access to our dashboard there's no need to open a browser anymore to manage your sites, monitor your connect usage, view and update your subscriptions, create and reply to tickets or access your downloads, you get full access to Joomlatools right from your desktop.
At the moment the Desktop App is only available for macOS, don't worry Windows users we haven't forgotten about you, an app for Windows is in the works.
New to Joomlatools Dashboard?
Wondering what Joomlatools Dashboard can do for you? A whole lot! You can read all about its feaures in our previous release announcements. Here is the shortlist:
Customer feedback
I like the dashboard, good design and everything is logical and straightforward with all the information I need to administer my site. Good job!
I think the new dashboard is well structured and very intuitive to use.
What about mobile?
Of course we are not going to stop at the desktop! The dashboard has already been optimised for phones and tablets, just go to http://dashboard.joomlatools.com and login.
A mobile app is in the works too, so you can keep an instant tap on what's happening on your site(s) while you're on the go!
Get started
The dashboard is available to all our subscribers. Go ahead log in and download Joomlatools Dashboard Desktop App. Not yet a subscriber? Get your Subscription today, starting from $39.
Be the first to know about upcoming extensions, features, services, and news by following us on Twitter, Facebook or Linkedin